Tutor Tips - An Approach to Reaching Reluctant or Struggling Readers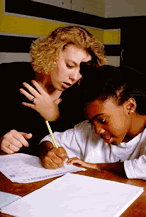 What should you do when your student just can't get the hang of reading or writing? And what should you do when he or she balks at reading the books you have available?
The "language experience approach" is a wonderful way to get ALL students eager to read and write. Tutors using the language experience approach take dictation from their students, (or have the students do their own writing) then use the students' own words as reading material. Sometimes tutors will engage in some activity with their students beforehand to provide a topic that students will want to talk about.
Here's an example of how you might use this effective approach:
Ask about a subject (be it a television show, video game or a recent experience) that your student enjoys. Encourage your student to talk about what interests him most, in whatever manner is comfortable for him.
As your student speaks, neatly write down his experience IN HIS OWN WORDS. If he says "don't" where you would say "doesn't", you should still write "don't." This is the time for your student to express his own thoughts in his own way. Of course, you'll want to write with printed letters, not cursive.
When your student has finished his description or narration, review his "writing" and read it together. You may be surprised how easily your student can read his own words--even words that might otherwise be considered difficult.
Your student's creation will be important to him and should be treated as such. Encourage him to illustrate it and/or staple it into the form of a book. (Although older students may not be interested in this last step, the language experience approach is useful at any age.)
Many teachers and tutors find that the language experience approach is enjoyable as well as effective. What could be more interesting for a student than reading his own words about a subject that he knows and cares about? Or a story that he has created all by himself?
In addition to providing enthusiasm for reading and writing, the language experience approach helps students make the connection that words on paper are really just "talk written down." When Professor Roach Van Allen first described this approach in the 1960's, he showed how it creates a most natural bridge between spoken language and written language:
" What I can think about, I can talk about.
What I can say, I can write.
What I can write, I can read.
I can read what I can write and what other people can write for me to read."
http://www.literacyconnections.com/InTheirOwnWords.html


Print this article
View Articles