PROFESSIONAL DEVELOPMENT
Upcoming FLC Trainings for Literacy Providers
STAYING HEALTHY: Health Literacy Curriculum, Resources, and Statewide Grant Initiative
May 9th • 1:00 PM-4:30 PM
Facilitator: Greg Smith
Cost: Free
Location: Florida Literacy Conference, South Seas Island Resort, Captiva Island
Learn how to successfully integrate health literacy into high-beginning and low-intermediate level adult ESOL instruction. Increase health literacy awareness among your students and encourage them to make healthy choices in relation to nutrition, preventative health care, accessing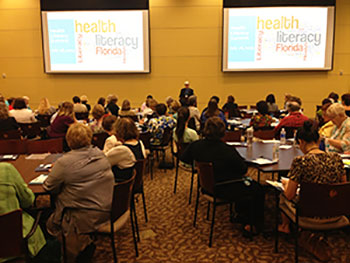 health services, and other related issues.
This 4-hour session includes an overview of the freely available Staying Healthy curriculum, hands-on activities/resources and time for discussion and idea sharing. Each participant will receive a copy of the Staying Healthy Student and Teacher's Resource Guide. This session is made possible by the support of Florida Blue.
Other health literacy sessions at the Florida Literacy Conference:
TBA

Training for Health Providers
The Florida Literacy Coalition offers trainings providing an introduction to health literacy and strategies for better patient communication. If you would like to request a training or learn more about partnership opportunities, please contact Heather Surrency(surrrencyh@floridaliteracy.org).
Other training opportunities:
TBA
View Materials from Past Trainings
Understanding the Health Insurance Marketplace
Michelle Ray, Navigator, USF Chiles Center for Healthy Mothers and Babies
This free session provided an overview of the Health Insurance Marketplace: who is eligible, how to enroll, plan options, tax credits, and other options for those with limited incomes. Participants learned about resources that you can share with your adult learners and how you can arrange to have a health insurance Navigator speak to your program and provide students with individualized assistance.

Teaching Health to Low-Literate Adult ESOL Students (PowerPoint)
Lori Cabrera, ESOL Department Head, East & West Area Adult Schools, Polk County
Learning English as a second language can be daunting for those with limited literacy in their native language, especially when it comes to health. This presentation explores the issues ESOL learners encounter when developing health literacy, strategies to address these issues, and how to adapt Staying Healthy and other curricula for low literacy-level students (webinar originally presented December 11, 2012)