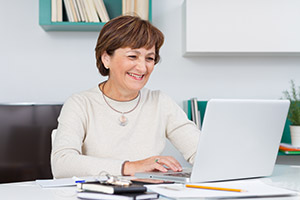 FLC is pleased to make available an exciting new opportunity for tutors and students to meet and conduct live online lessons from anywhere they have internet access.
Convenient for "snowbird" volunteers or others who would like an alternative way to offer lessons , this program allows for tutors and learners to meet face to face, even when they are not located in the same place.
How does virtual tutoring work?
Virtual tutoring uses audio, visual, electronic whiteboard and chat technology to provide tutors and students with tutoring sessions anywhere they have internet access. Tutors will schedule a live session and give the link to their student. A tutor will launch the session and the student will join using the link.
---
What are the equipment requirements?
To have a virtual tutoring session, you and the student must have access to a computer or tablet with moderate speed (minimum 180KBPS) internet access. You do not need to download any software. All sessions are live streamed. For audio, you will need a mic and a speaker or you can use a telephone. Use of a telephone is a separate call and not built into the system. To ensure the best experience, we recommend that you also have a webcam, which will allow for two way video conferencing. If your computer doesn't have a built in webcam, they are usually easy to install and available at most department or office supply stores for $10-$30.
---
What are the features?
Virtual tutoring uses software called WizIq. This software offers a variety of features including:
Video conferencing: A tutor can use a webcam to simulate a face-to-face tutoring session.
Screen sharing: By screen sharing, the tutor and learner will be able to show their desktops to one another.
Document sharing: Tutors will have the ability to easily upload documents.
Annotation: Tutors and learners will have the ability to mark up the screen using a mouse.
Whiteboard: Tutors can write on a blank white screen.
Scheduling: Tutors will have the ability to schedule a session with their learner via an online portal.
Recording: Live sessions can be recorded for future reference
Tracking: Tutors can see past sessions and how long the session lasted.
Please check out our tutorial session for an overview on the features of WizIq.
---
How do I schedule a session?
To schedule a session, click the "schedule a session" button on the right side of the screen. This will bring you to the WizIq portal login screen where you will enter your username and password. Click the schedule a session button to schedule your session.
---
What organizations are partnering as pilot sites for this program?
Our thanks to the following organizations which are participating as pilot sites.
Literacy Coalition Volusia County
Citrus County Library System
If you are interested in becoming a pilot site, please contact Nicole Caban ncaban@floridaliteracy.org
---
How do I get a username or password?
If your program is participating, please contact your program manager for the username and password.
---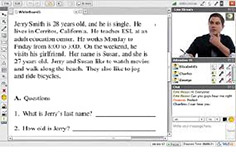 Can I request a live demo?
Program managers may request a live demo. Please email Nicole at ncaban@floridaliteracy.org to schedule a demonstration.
Please take a look at the tutorials to see a prerecorded demonstration.
---
What instructional materials can I use?
You are free to use any materials you would like just like in your regular tutoring sessions. Most electronic files, including Powerpoint, PDFs and word processing documents can be easily uploaded and you can also access and share websites.
You may wish to refer to your program manager for choosing appropriate materials.
Please check out our resource library for additional free resources.
If you are using hard copy materials, you may wish to use a scanner. A number of free or low cost scanning apps (such as TurboScan) are generally user friendly and available to use on most smartphones. The use of a document camera is another option, although not required. Print quality document cameras (such as Ziggi-HD) retail for around $99.
Through the support of New Readers Press, the new Digital Challenger will also be available for you to use. If you are interested in having access to Digital Challenger please email Nicole at ncaban@floridaliteracy.org .
---
What is the cost?
This is offered as a free service for participating tutors and students.
---
How do I become a tutor or student?
This is currently in a pilot project in partnership with several community- based literacy organizations. If you are interested in participating as a volunteer tutor or student, please email ncaban@floridaliteracy.org to discuss.
Please also check out FLC's "Find a Program" referral service for Adult Learners and Volunteers.
---
Can I review my sessions?
You will have the ability to record and review your sessions.
---
Can I schedule a group session?
Yes. Each classroom accommodates a maximum of 6 participants, including presenter and attendees, to have a video interaction simultaneously. However, an unlimited number of attendees can have an audio interaction during a session.
---
---