Wednesday, May 8
9:30 am - 11:00 am

Nelson Lauver
As a young boy, Nelson Lauver fell through the cracks of an educational system that was ill-prepared to deal with a student who couldn't learn like the rest. Socially promoted, he graduated from high school and received a diploma he struggled to read. He knew he was different...he just didn't know why.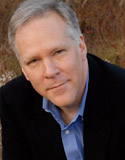 After nearly a dozen more years struggling as a functionally illiterate young adult, an amazing chance encounter and the utterance of one word – dyslexia – changed Nelson's life. He finally learned to read and write and set on a journey that few would have imagined.

Today Nelson is an acclaimed author, journalist, nationally syndicated broadcaster, and educational rights advocate. A natural communicator and humorist, Nelson is a highly regarded speaker who shares his own story as a way of helping others realize their maximum potential.

As the host and creator of The American Storyteller Radio Journal from 2001 to 2010, Nelson offered radio listeners across the country a daily 4-minute slice of the American experience. 2011 marked the release of his award-winning memoir, "Most UnLikely to Succeed".
---
Friday, May 10
11:30 am - 1:00 pm

James Duffy
James Duffy worked in the broadcasting industry for 48 years, including an unprecedented 15 years as president of the ABC Television Network. He joined the American Broadcasting Company in Chicago in l949 and worked in almost every broadcast sector in television and radio during the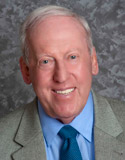 ensuing years. He was instrumental in making ABC-TV first in program ratings, national sales and the number of affiliated stations. He created new concepts in programming for children, in publicservice projects, and in new procedures in sales and affiliate relations.
From June 1985 to August, 1989, Mr. Duffy served as president of the Office of Communications, Capital Cities/ABC, Inc. In that capacity he initiated several special communications projects including Project Literacy US (PLUS) where he served as the National Spokesperson with Barbara Bush for a number of years.
He was recognized with the broadcast industry's highest honor, the National Association of Broadcasters Distinguished Service Award, in 1989, and, in public service, the National Literacy Coalitions Lifetime Achievement Award in 1996.