OPENING GENERAL SESSION:
Wednesday, April 29
9:30 am - 11:00 am

Craig Boykin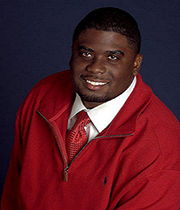 As a speaker, author and community activist, Craig Boykin has devoted his life to creating lasting change for those who desire it. He has endured numerous hardships which have contributed to his passion to help others with humility and candor.
Craig has risen to national prominence by delivering a high energy message which tells people how to shake off mediocrity and live up to their greatness. It is a message Craig has learned from his own life and one he is helping others apply to their lives.
His first book, "My Life, Your Inspiration," has been featured on TBN and won various awards, and his story has been included in many motivational magazines. Craig now tours the country sharing his remarkable story and insights on how to teach, inspire and channel people to new levels of achievement.