:Tech skill: PowerPoint Basics: make new and duplicate slides
Whether it's working on multiplication tables or reviewing vocabulary terms, the process of creating and using flash cards can sometimes be a great instructional activity for learners. This is especially true for those using them for self-study.
I used to make flashcards with index cards but now various new technologies have their advantages. For those with smartphones there are a myriad of apps for making flash cards, so students may store them on their smartphones, which they use every day, and don't have to carry a set of index cards around. But let's take a look at an "old" technology to create simple activities that you might want to use in your teaching: PowerPoint.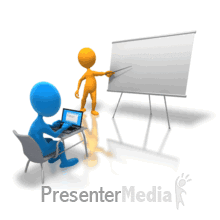 PowerPoint has many uses for educators, but one that shouldn't be overlooked is using PowerPoint slides as flash cards. In PowerPoint, create a series of flash cards. Create a slide with a new word, making sure to enlarge the font size. Then create the next slide with its synonym (or definition). Continue with each new word as before. There are a number of ways you can use flash cards with your class. Here are a few:
Using a projector, introduce the definitions of words or math formulas.  As part of a pre-reading activity, using flash cards could help students learn words that will help them better understand what they will be reading.  Then review words or formulas at the end of class or the start of the next day's class. You may also use flash cards as part of a game, where for instance, the teacher shows the first slide to the class and groups gain points by trying to guess the correct answer before the teacher clicks to the next slide. Don't forget to have students create their own PowerPoints with words (or images) on one slide and definitions or synonyms on the other slide.
For self-study here are a couple of options:
Print out copies that students can keep for future study, or email your students the PowerPoint,  so they can use it on their home computer (or for that matter on a smartphone app like QuickOffice slideshows). For students who have smartphones in your classroom, allow them to use their phones in class to take photos of each slide (make sure that they do these in order) and they can view the images in their photo gallery swiping to the next word or definition much like a slideshow. This may also keep students engaged during the lesson, since they know that they will be given a few minutes to use their phones at the end of the activity.
Entry written by Steve Quann of World Education, co-author of Tech Tips for Teachers.