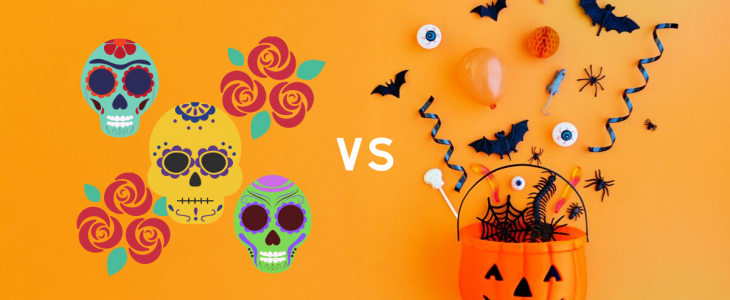 Cultural differences are often found to cause misunderstanding between ESOL students and their educators. What's even more common is for teachers to give lessons based on American holidays, so students better understand American culture. One activity that literacy practitioners could do with adult literacy and/or ESOL students is provide a comparison between the American holiday Halloween with the Central American holiday El Dia de Los Muertos.
El Dia de Los Muertos (literally, Day of the Dead) is celebrated on November 1 of each year. Although festivities occur in various Central American countries, it is predominantly celebrated in Mexico. It is believed that the spirits of dead loved ones visit their families on this day, but the families choose to celebrate the dead relatives' lives instead of mourning them.  There's distinct food, clothing, and traditions similar to our Halloween.
Rather than teach a lesson on Halloween that adult learners may have already experienced, why not compare cultural traditions instead? Whether your learners are ESOL students or adult literacy students, this idea can even be fit to incorporate collaborating with a mixed group of students. You could prepare a short overview of both holidays, or use your students' diverse backgrounds to teach the others about their holiday traditions.
Whatever the level of your learners, you can use this idea to create a lesson that benefits them. Whether you use Venn Diagrams or a 5-paragraph essay, students can make sense of a foreign holiday by comparing it to something more familiar.
To get you started, here are a few resources worth checking out:
Halloween
Teacher Boot Camp's Halloween Activities Guide
History Channel's Halloween Videos and History
5 Minute English's Halloween Lesson
Day of the Dead
Denver Public School's Day of the Dead Lessons
National Geographic Day of the Dead Overview
Inside-Mexico's Day of the Dead Page