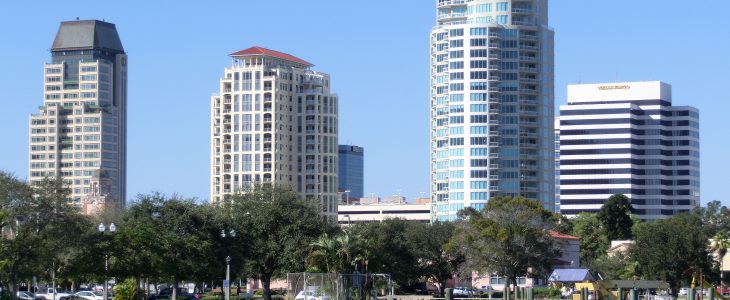 Made up of five different arts districts, downtown St. Petersburg is a mecca of restaurants, boutiques, art, and music for all visitors to enjoy.  After your conference sessions are over for the day, enjoy the nightlife and the sights that are found throughout the downtown districts.
Central Arts District 
Encompassing the 300-700 blocks of Central Avenue, you can easily enjoy a full day getting to know the city's art hub. Lovers of art will enjoy the murals and street art seen all over the district and foodies will find restaurants to rave about. Live music can be heard at the many restaurants that line the streets like Acropolis Green Taverna, La V, and Cycle Brewing. Some of the must-sees include the Morean Arts Center, Morean Glass Studio & Hot Shop (which offers glassblowing demonstrations four times daily for a fee of $8.95), and the Florida CraftArt Gallery. For those of you who want a more hands-on approach, check out the Morean Glass Studio's Glass Experiences for the chance to create your own piece of glass art.  Don't forget to take the trolley for a fun experience or drive.
Grand Central District 
Formed in 2001, Grand Central District is recognized as a Florida Main Street Community. Their goal is to revitalize the community through an eclectic mix of historic preservation and economic development. Purchase some books at Haslam's Book Store, the largest new & used book store in Florida. Don't worry about being hungry after your conference sessions are over: with multiple cuisine options in Grand Central District like Casita Taqueria, Punky's Bar&Grill, Pom Pom's Teahouse and Sandwicheria, or (swah-rey), you'll be sure to find something that pleases your taste buds.
The Edge District 
As another Florida Main Street Community, The Edge District claims its sense of vibrancy from its pubs, clubs, galleries, and restaurants. Stop by Green Bench Brewing Company and enjoy the tasting room, where you can try over 15 different varieties as you take in the uniqueness of the décor. Continue out into their Beer Garden where the landscaped seating and covered patio provide a great place to enjoy the lawn games, food trucks, and live music on the weekends. Explore The Edge District and take painting classes, visit boutiques, and discover hand-crafted beauty products and jewelry.
Warehouse Arts District 
The Warehouse Arts District started as an industrial zone, and because of its large spaces, artists love using this area to complete larger-scale projects. Come visit the Duncan McClellan Gallery or the Train Station Center for Clay. If you're looking for a great way to tour the district after your conference sessions, take advantage of the WADA (Warehouse Arts District Associations) Walks. With two Walks to choose from, these self-guided tours take you through a few of the Districts must-see places.
WADA Walk One takes you to the Duncan McClellan Gallery and St. Pete Hot Glass Workshop, Zen Glass Studio and Gallery, Charlie Parker Pottery, The Venture Compound, and Funktionhouse, Urban Lumber & Furnishings.
WADA Walk Two takes you along 22nd Street South to visit Carrie Jadus Fine and Portraiture, MGA Sculpture Studio, Dazzio Art Experience, Morean Center for Clay, The Clay Center of St. Petersburg, and From Mayan Hands/New World Imports.
Peruse the Where to Visit page for the list of WADA Walk addresses along with other galleries and studios not included in either Walk list.
Waterfront Arts District 
Don't miss out on exploring the Waterfront Arts District! This district boast numerous museums such as the Dali Museum, the Museum of Fine Arts, the Chihuly Collection, and more. The Hilton Hotel where the conference is being held is also located in this district, so attendees won't have far to travel to visit the sights that the Waterfront Arts District has to offer. Spend your free time enjoying the nightlife, visiting museums, or simply taking a walk or watching a movie.
No matter which districts you are able to visit, downtown St. Petersburg has beauty to offer at every turn.