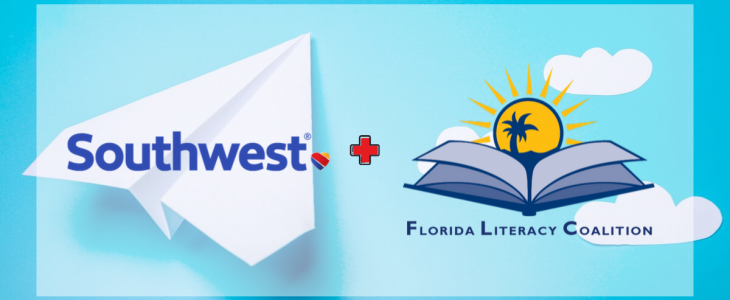 Southwest Airlines and the Florida Literacy Coalition are giving you the opportunity to raise funds for literacy! Your community or library-based organization could be one of five to receive two (2) round-trip airline tickets to any Southwest Airlines destination within the continental U.S. and Puerto Rico. Please note that tickets expire December 1, 2020.
How to Apply
Complete the application form below and attach a 1-2 page (12-pt font, single spaced) document with the following information:
Description of your organization/program.
How you would use the donated tickets to raise funds or otherwise support your program.
Describe how your organization will benefit from Southwest Airline tickets.
If you will use the tickets for a fundraiser, please provide the approximate date of the fundraiser and fundraising goal. If tickets are to be used for other purposes, please detail how your program will benefit.
Brief statement as to how Southwest Airlines will be recognized as a supporter.
Describe how you will use social media to promote the fundraiser or project, if applicable.
Eligible Applicants: Florida based non-profit organizations and library-based programs working in adult literacy, ESOL and/or family literacy.
Deadline and Selection Process: The deadline has been extended! Submit your request by November 8, 2019. A committee of individuals from FLC and Southwest Airlines will select the recipients. Applicants will be notified by the middle of November.