In the United States, adult literacy continues to be a significant problem. Approximately 65 million adults lack basic literacy skills, but what exactly does that mean?
We've created an infographic that visualizes the consequences of illiteracy in adults, as well as which people are most likely to lack these skills.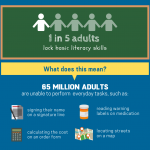 Quick Facts
Those who lack basic literacy skills are unable to perform everyday tasks, such as:
sign their name on a signature line
reading medication warning labels
calculating the cost on an order form
locating streets on a map
Of the estimated 65 million adults with below basic literacy skills:
2/3 dropped out of high school
25% are immigrants who don't speak English
1/3 are age 65 or older
Over half live in poverty
This infographic also shares what steps we can take toward solving this issue in our communities. Investing in quality adult education equips students with necessary professional and life skills, benefiting our economy as a whole. Please view the infographic below—download and share it to raise awareness.