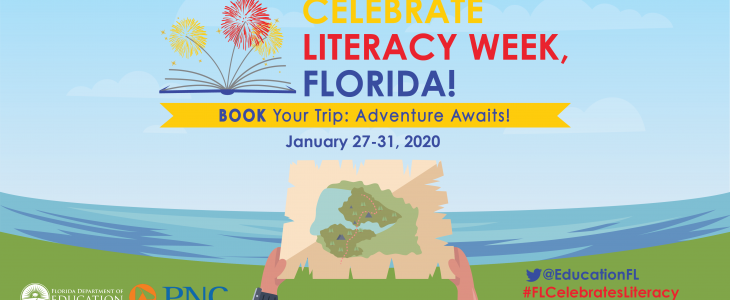 The Florida Department of Education has announced that January 27-31, 2020 will be Celebrate Literacy Week, Florida! This year's theme is BOOK Your Trip: Adventure Awaits, to show how literacy can take readers on adventures of all types. 
What is Celebrate Literacy Week?
Celebrate Literacy Week is a yearly initiative from the FLDOE to encourage children to read, as well as for parents to read to their children. To that end, they have Literacy Tips for Parents up on their website, geared towards starting children on the road to reading, starting at home.
How Adult Learners can participate
Many adult learners are motivated to learn to improve their skills in order to set an example for their children, as well as get more involved in their academics. As a result, adult literacy educators can gear their lessons leading up to Celebrate Literacy Week towards helping their students learn to read to their children. Encouraging adult learners to read with their children or grandchildren can be helpful for both of them, and provide further motivation for adult learners from seeing the fruits of their labor. Literacy starts at home, with both parent and child.
Lesson Plan Examples
Scholastic.com has information on the components of teaching reading, as well as lesson plans and activities towards the end of the article, and ways for parents and children to improve reading skills.
San Diego Continuing Education has activities and worksheets of situations that parents might find themselves in while helping their school age child.
Minnesota Literacy Council has videos and lesson plans for ESL and ABE classes of various levels. They have more resources here.
Adult Literacy League also has resources for teachers or students, to aid both in ESL and ABE.
National Center for the Study of Adult Learning and Literacy has an article called "Techniques for Teaching Beginning-Level Reading to Adults" that includes descriptions of syllable types and how to structure reading classes for Adult Learners.
Visit our website for more free teacher/tutor resources for reading, and let us know your thoughts or results in the comments or on social media!