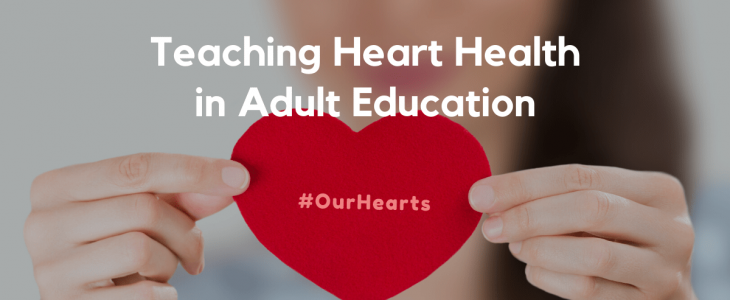 February is National Heart Month! The National Heart, Lung, and Blood Institute (NHLBI) started the #OurHearts movement in order to build a community around the practices that lead to a healthy heart. To celebrate, FLC has created the Teaching Heart Health toolkit for adult educators.
The toolkit provides a listing of plain language resources and activities that you can easily add to your curriculum. Teach heart health with videos, reading texts, vocabulary activities, and interactive games (including Jeopardy). You can find the toolkit in our Heath Literacy Lesson Plan Bank.
Why celebrate National Heart Month?
According to Dr. David Groff, the director of cardiovascular studies at NHLBI, "having positive, close relationships and feeling connected to others benefits overall health, blood pressure, weight and more." 
Anyone who has tried to start a new habit or quit an old one knows it's easier to get it done with some support and company. There's nothing better than sharing a healthy lifestyle with the people you care about!
How can we teach heart health in adult education?
When there's a whole month to dedicate to living healthier lifestyles as a community (if not every month), there's plenty you can do in that time! As a community, NHLBI suggests that you:
Be more physically active. 

Maintain a healthy weight.

Eat a nutritious diet.

Quit smoking.

Reduce your stress.

Get enough quality sleep.

Track your heart health stats. 
There's even more you can do as adult literacy teachers and tutors to make sure your hearts are thanking you by the end of February. National Heart Month is all about using the power of community to make positive change in our lives. As educators, you're already making positive changes in your students' lives through the learning community that you teach in. Teaching heart health in your lessons or programs can only make your community stronger.
How can we promote health literacy in our programs?
Don't worry, this one has an easy answer. Use the Teaching Heart Health toolkit to supplement your curriculum for the month of February. Outside of National Heart Month, FLC is committed to teaching heart health and increasing health literacy by supporting programs in Florida. The Health Literacy section of our website has resources, including the Staying Healthy Curriculum. Our Resource Clearinghouse also has materials to help literacy programs teach health literacy, including copies of vaccination and immunization schedules, and much more.
You can find more information about National Heart Health Month on the NHLBI website.