ORDER BOOKS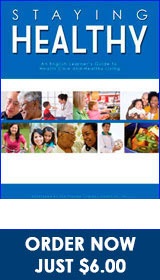 While Staying Healthy is freely available to download, many programs like to provide students with their own high quality print copies. Get your glossy, bound, full-color books today!
Literacy Programs in Florida:
A supply of hard-copy health literacy books are available at no charge to Florida adult ESOL and literacy programs.
Staying Healthy Student Book
Staying Healthy for Beginners Student Book
Health Careers Guide Student Book
Coping with Stress Student Book
Coping with Stress Teacher's Guide
Women's Health Student Book
Women's Health Teacher's Guide
Complete a Request Form to order books.
---
Non-Literacy and Out-of-State Programs:
The Staying Healthy curriculum is also available to schools and non-profit organizations for purchase.
Please note: For purchases of more than 20 books, please contact us at (407) 246-7110, x201.
---